ART GALLERIES OF SYDNEY
Experience the Art of Sydney
Sydney is filled with charming arts communities and neighborhoods whose art galleries, exhibitions, festivals, and events entrance and inspire locals and visitors.
Sydney's galleries showcase world-class art, providing innovative, educational, and multidisciplinary arts experiences to elevate the individual spirit and inspire community vitality.
Sydney's art is a celebration that honours the rich cultural history of the city and of Australia.
What is created and exhibited shows what can be achieved when people can dream big and inspire others to create, connect, experience, and celebrate art in its many forms.
Sydney is indeed a creative and inspiring place and here is a collection of the galleries for you to investigate.
Galleries
---
___________________________
4A CENTRE FOR CONTEMPORARY ASIAN ART
181 Hay Street Sydney NSW
Ph 02 9212 0380
Email hello@4a.com.au
www.4a.com.au
www.facebook.com/4ACentreforContemporaryAsianArt
"4A Centre for Contemporary Asian Art is an initiative of The Asian Australian Artists Association a non-profit organisation (4A) with the aim of promoting a greater understanding of diverse cultures through the arts." 4A CENTRE
---
ARGYLE GALLERY
21 Playfair Street The Rocks NSW
Ph 02 9247 4427
Email argylegallery@bigpond.com
www.argylegallery.com.au
"Since 2000, Argyle Gallery has showcased a collection of all Australian and Aboriginal art and fine crafts sourced directly from artists and communities. Argyle Gallery is located in The Rocks, Sydney and also carries a wide selection of all Australian made gifts for all occasions." ARGYLE GALLERY
---
ART GALLERY OF NEW SOUTH WALES
Art Gallery Road Sydney NSW
Ph 1800 679 278
Email artmail@ag.nsw.gov.au
www.artgallery.nsw.gov.au
www.facebook.com/ArtGalleryofNSW
www.instagram.com/artgalleryofnsw
"One of Australia's leading art museums. Over a million visitors enjoy the Gallery's collections of Australian, Aboriginal, European, Asian and contemporary art each year. Located within beautiful parklands overlooking Sydney Harbour and only 15 minutes walk from the city centre. Free general admission, charges apply for some exhibitions." ART GALLERY OF NEW SOUTH WALES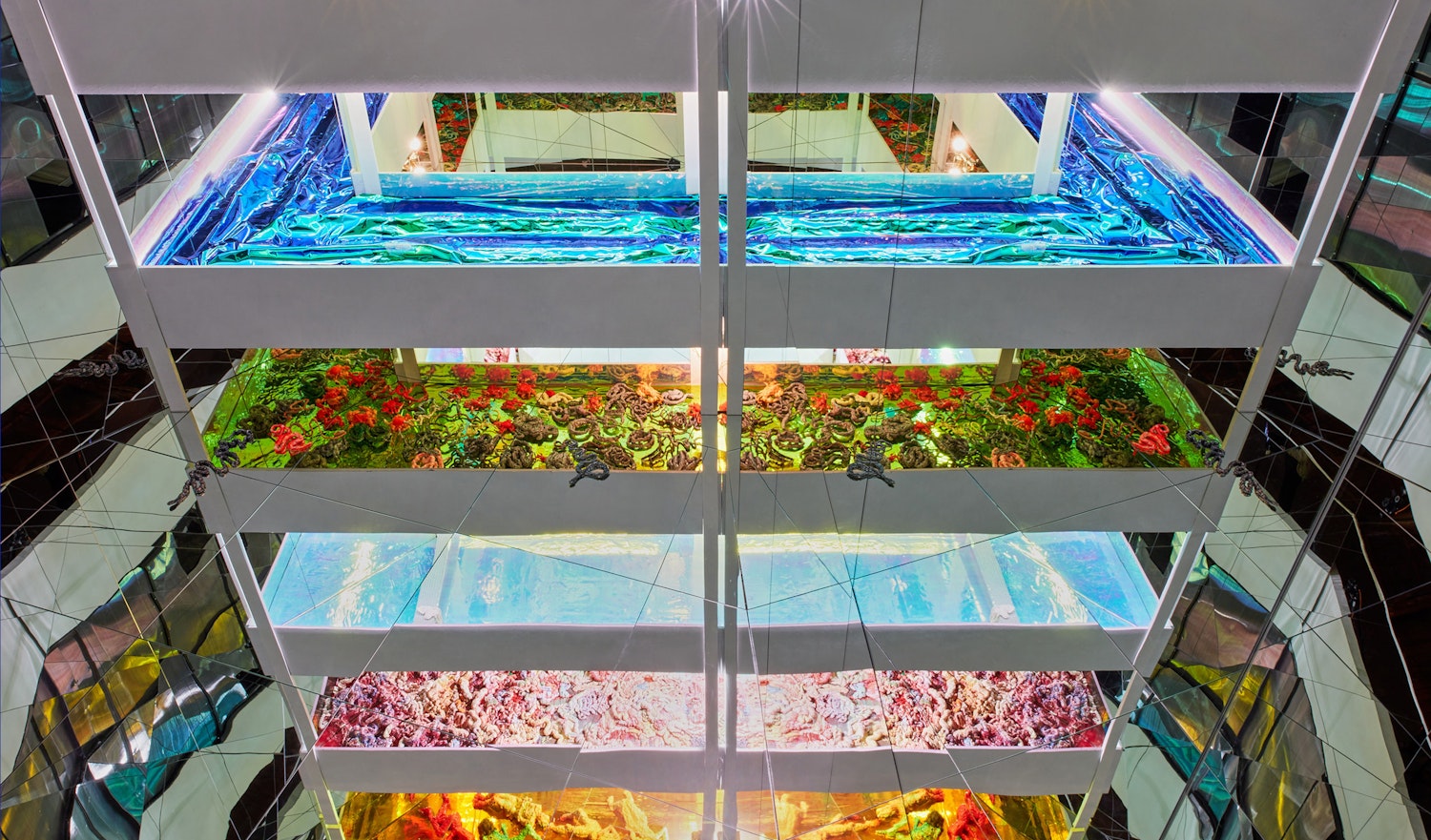 Art Gallery of NSW | Art Gallery of NSW
We acknowledge the Gadigal of the Eora Nation, the traditional custodians of the Country on which the Art Gallery of New South Wales stands.
---
ART GALLERY ON DARLING
307 Darling St Balmain 2041
Ph 0488 400 053
Email info@artgalleryondarling.com.au
artgalleryondarling.com.au
www.facebook.com/artgalleryondarling

"ART GALLERY on darling is an ever changing exciting contemporary art gallery located in the funky shopping precinct of Balmain on Sydney's harbour peninsula. An ever changing exhibition of Original Artwork, Sculpture, Printmaking, Ceramics and Photography."
---
ARTSHINE AT YUGA GALLERY
172 Saint Johns Road Glebe NSW
Ph 0410 636 138
Email gallery@artshine.com.au
www.artshinegallery.com
www.facebook.com/artshinegallery
twitter.com/_artshine?lang=en
"The ArtSHINE Gallery is an open platform dedicated to emerging and established artists. We work alongside artists, designers, and creative industry professionals to showcase talents and to connect them with established and emerging collector communities. Open to the public the ArtSHINE Gallery is located in the heart of the Chippendale Creative Precinct." ARTSHINE AT YUGA GALLERY
---
AUSTRALIAN GALLERIES
15 Roylston Street Paddington NSW
Ph 02 9360 5177
Email enquiries@australiangalleries.com.au
australiangalleries.com.au
www.facebook.com/pages/Australian-Galleries
instagram.com/australiangalleries
"Established in 1956, Australian Galleries has continued to represent significant contemporary Australian artists and their work for 60 years with a vibrant monthly exhibition program and extensive stock gallery." AUSTRALIAN GALLERIES
---
THE BRETT WHITELEY STUDIO
2 Raper Street, Surry Hills (behind Bourke Street Bakery)
Ph 02 9225 1881
Email brettwhiteleystudio@ag.nsw.gov.au
www.artgallery.nsw.gov.au/visit/brett-whiteley-studio/
The Brett Whiteley Studio is managed by the Art Gallery of NSW and is not a commercial gallery. Open Thursday to Sunday, 10am – 4pm. Closed Easter Friday and Christmas Day.
"The Brett Whiteley Studio was the workplace and home of Australian artist, Brett Whiteley (1939–92).
The artist bought the former warehouse in 1985 and converted it into a studio and exhibition space. He lived there from 1987 to 1992, the year he died in Thirroul.
The visitor is offered the unique opportunity to experience the atmosphere of the space – the studio with his unfinished paintings, art equipment and collections of reference books, and the graffiti wall covered with quotes and images."
---
---
BRIDGET KENNEDY PROJECT SPACE
53 Ridge Street North Sydney NSW
Ph 0411 808 274
Email projectspace@bridgetkennedy.com.au
www.bridgetkennedy.com.au
www.facebook.com/bridgetkennedyprojectspace
"A combined contemporary jewellery and object gallery and working studio of Bridget Kennedy. Creating exhibitions, workshops and community events." BRIDGET KENNEDY PROJECT SPACE
---
CAMPBELLTOWN ARTS CENTRE
1 Art Gallery Road Campbelltown NSW
Ph 02 4645 4100
Email artscentre@campbelltown.nsw.gov.au
www.c-a-c.com.au
www.facebook.com/CampbelltownArtsCentre
Free Entry. Open 10am – 4pm daily.
The Arts Centre Café is open daily from 9.30am.
"Held onsite at Campbelltown Arts Centre, Campbelltown City Council collection comprises of over 1400 artworks by significant Australian and International artists. Valued at over $7 million, the collection grows each year through acquisition, generous donations, bequests, the acquisitive Fisher's Ghost Art Award, new commissioned works and through the Australian Government's Cultural Gifts Program." CAMPBELLTOWN ARTS CENTRE
---
CASULA POWERHOUSE ARTS CENTRE
1 Powerhouse Road Casula, NSW
(Entry via Shepherd Street Liverpool)
Ph 02 8711 7123
Email reception@casulapowerhouse.com
www.casulapowerhouse.com
SEE OUR CASULA POWERHOUSE PAGE
"Casula Powerhouse Arts Centre is a cultural facility of the Liverpool City Council on the banks of the Georges River. They have a busy schedule of exhibitions, performances, festivals, screenings, theatre and events across six galleries, two theatres and a large main hall. Arts Centre Open Monday to Friday 9am to 5pm, Saturday and Sunday 9am to 4pm (closed public holidays) Bellbird Dining & Bar Open Monday to Friday 9am – 3pm, Saturday and Sunday 9am to 2.30pm (closed public holidays)" CASULA POWERHOUSE ARTS CENTRE
---
DEFIANCE GALLERY
12 Mary Place Paddington NSW 2021
Ph 02 9557 8483
Email lauren@defiancegallery.com
www.defiancegallery.com
www.facebook.com/pages/Defiance-Gallery/243130222371729
"Defiance Gallery was founded in 1995 and is run by Campbell Robertson-Swann and Lauren Harvey. For the past two decades, Defiance has maintained a reputation as a focal point for the highest quality Australian and International sculpture and painting. The gallery's stalwart support for sculpture has marked it as the leading Australian exhibition space for this form." DEFIANCE GALLERY
---
FERRY ARTISTS GALLERY
5557 Old Northern Rd Wisemans Ferry NSW
Ph 02 4566 4385
Email info@ferryartists.org
www.ferryartists.org
www.facebook.com/ferryartists
"The Ferry Artists Gallery is a community run art gallery in the beautiful & historic Wisemans Ferry. The Gallery is a venue where talented local artists exhibit and sell their creations in a wide range of media including painting, ceramics, jewellery, printmaking, sculpture, textiles, metal art, photography, and glassware. New exhibitions and workshops are held regularly." FERRY ARTISTS GALLERY
---
GANNON HOUSE GALLERY
45 Argyle St The Rocks NSW
Ph 02 9251 4474
Email enquiry@gannonhousegallery.com
gannonhousegallery.com
www.facebook.com/gannon.house
"Gannon House Gallery prides itself on providing exceptional customer service and our gallery services are one part of this. Choosing an artwork can be a daunting process when there is often more than just personal taste to consider. We can help you choose an artwork, provide information about the artist and the provenance and condition of older work, provide documentation for insurance, arrange framing, hanging and installation and even commissioning of artwork." GANNON HOUSE GALLERY
---
HAWKESBURY REGIONAL GALLERY
300 George St Windsor NSW
Ph 02 4560 4441
Email gallery@hawkesbury.nsw.gov.au
www.hawkesbury.nsw.gov.au/gallery
www.facebook.com/hawkesburygallery
"The Gallery is the keeping place for a number of collections, including the Hawkesbury City Council Art Collection. The Collection comprises approximately 500 works of art, including many works by regional artists, and a number of works by Modernist and Postmodernist artists Bim Hilder, Maurice McDonald, Suzanne Archer, David Fairbairn, John Firth-Smith, Barry Gazzard, Peter Laverty, Ursula Laverty, Peter Pinson, Tony Tozer and David Voigt." HAWKESBURY REGIONAL GALLERY
---
HAZELHURST ARTS CENTRE
782 Kingsway Gymea NSW
Ph 02 8536 5700
Email hazelhurst@ssc.nsw.gov.au
www.hazelhurst.com.au
twitter.com/hazelhurst_art
www.facebook.com/hazelhurstartscentre/
"Set amid landscaped gardens, Hazelhurst Arts Centre has been specifically designed to appeal to the whole community. The combination of a major public gallery with a comprehensive arts centre, cafe, theatrette and community gallery makes a unique creative resource for everyone. Hazelhurst acknowledges the Dharawal speaking people, traditional custodians of the land, and pays respect to elders past and present." HAZELHURST ARTS CENTRE
---
JAPAN FOUNDATION GALLERY
28 Broadway Level 4, Central Park Chippendale NSW
Ph (02) 8239 0055
Email reception@jpf.org.au
jpf.org.au/gallery
www.facebook.com/japanfoundationsydney
twitter.com/JPFSydney
"The Japan Foundation, Sydney runs a range of cultural events and languages programs, including exhibitions, workshops, classes, talks, conferences, the Japanese Film Festival, and more!" JAPAN FOUNDATION GALLERY
---
JOEL COLEMAN GALLERY
Market Place Manly NSW
Ph 02 9976 6518
Email gallery@joelcoleman.com
joelcoleman.com/
"Based in Manly, Sydney, I'm a photographer and digital artist who has built an extensive collection of ocean based landscape, underwater and wildlife photographs. To compliment this collection, I like to push creative boundaries by creating captivating series' of images including underwater nudes and complete underwater set builds." JOEL COLEMAN GALLERY
---
KERRIE LOWE GALLERY
49-51 King St Newtown NSW
Ph 02 9550 4433
Email lowekerrie@journeyman2800
www.kerrielowe.com
www.facebook.com/kerrielowegallery
"The Kerrie Lowe Gallery specialises in contemporary ceramics as well as painting, printmaking, jewellery and sculpture. We also support thr ceramic community by providing Sydney's only inner city outlet for ceramic supplies." KERRIE LOWE GALLERY
---
KING STREET GALLERY ON WILLIAM
177-185 William St Darlinghurst 2010
Ph 02 9360 9727
Email art@kingstreetgallery.com
kingstreetgallery.com.au
Open 10am to 6pmTuesday – Saturday. By appointment Sunday and Monday
" King Street Gallery on William is situated in the heart of the Sydney city arts district; within walking distance of the Art Gallery of New South Wales and the Museum of Contemporary Art. The gallery has been in continuous operation since opening in the 1980s, on King Street in Newtown.
The gallery represents many of Australia's most prominent established artists including Elisabeth Cummings, Euan Macleod, Lucy Culliton, Ross Laurie, Idris Murphy, Jenny Sages, Paul Selwood, Wendy Sharpe and Guy Warren.
King Street Gallery exhibits a number of mediums, including paintings, sculpture, works on paper and limited edition prints. King Street provides clients with expert advice in all areas of purchasing, conserving and collection management; King Street Gallery is registered to value artworks for the ATO Cultural Gifts Program." KING STREET GALLERY ON WILLIAM
---
MANLY ART GALLERY AND MUSEUM
West Esplanade Manly NSW
Ph 02 9976 1420
Email artgallery@northernbeaches.nsw.gov.au
www.northernbeaches.nsw.gov.au/things-to-do/arts-and-culture/manly-art-gallery-museum
"Our collection extends to over 6,000 items (too many to display). It includes around 350 ceramics, 1,000 watercolours, prints, etchings, drawings and paintings (mainly contemporary and early Australian works) and over 1,300 items of swimwear." MANLY ART GALLERY AND MUSEUM
---
MAUNSELL WICKES AT BARRY STERN GALLERIES
19 Glenmore Road Paddington NSW
Ph 02 9331 4676
Email mw_art@bigpond.net.au
https://maunsellwickes.com/home/
"Maunsell Wickes is in Sydney's historic quarter of Paddington. Located in three 1840's terrace houses the gallery has nine different exhibition spaces and an impressive sculpture courtyard. The gallery continues to show estabilished as well as mid-career and emerging artists with changing monthly exhibitions and the gallery's extensive stockroom"
---
MOSMAN ART GALLERY
1 Art Gallery Way Mosman 2088
Ph 02 9978 4178
Email gallery@mosman.nsw.gov.au
mosmanartgallery.org.au
SEE OUR MOSMAN ART GALLERY PAGE
"Mosman Art Gallery's exhibition program is derived from local, national and international sources and covers the visual arts, craft and design, including historical and contemporary themes and subjects. See what's on for upcoming events and exhibitions. Exhibitions are accompanied by a program of gallery talks, seminars, events, and formal lectures for general visitors, students and arts professionals. Group, guided tours are available. Open 10am to 5pm (Wednesdays 10am-8pm), 7 days a week (closed on public holidays)" MOSMAN ART GALLERY
---
MURU MITTIGAR ABORIGINAL CULTURAL AND EDUCATION CENTRE
356 Annangrove Road Rouse Hill NSW 2155
Ph 1300 737 806
Email bookings@murumittigar.com.au
www.murumittigar.com.au
www.facebook.com/murumittigar
"Muru Mittigar is a not-for-profit community organisation which seeks to advance Aboriginal culture, and in particular Darug culture." MURU MITTIGAR
---
MUSEUM OF CONTEMPORARY ART MCA
40 George St The Rocks Sydney NSW
Ph 02 9245 2400
Email reception@mca.com.au
www.mca.com.au
SEE OUR MCA PAGE
"The MCA Collection contains over 4000 works by Australian artists that have been acquired since 1989. The Museum collects across all art forms with strong holdings in painting, photography, sculpture, works on paper and moving image, as well as a significant representation of works by Aboriginal and Torres Strait Islander artists.
Opening hours – Monday and Tuesday 10am to 5pm, Wednesday 10am to 9pm, Thursday 10am to 5pm, Friday, Saturday and Sunday 10am to 5pm. Closed 25 December.
MCA Store – Stocking an eclectic collection of books, homewares, toys, designer goods, and merchandise. Open daily on Level 1.
MCA Cafe – The MCA has a delightful rooftop cafe with some of the best views of the Sydney Opera House and Sydney Harbour Bridge. Open daily 10am-5pm, Wednesday 10am-9pm.
MCA – Restaurant overlooking Circular Quay, Ground Floor. Open weekdays 12 to 3pm, 5.30 'til late. Weekends 8 to 11.30am then 12 to 3pm." Museum Of Contemporary Art" MUSEUM OF CONTEMPORARY ART
---
PENRITH REGIONAL GALLERY
Home of The Lewers Bequest
86 River Road, Emu Plains, NSW, 2750
Ph 02 4735 1100
Email gallery@penrith.city
www.penrithregionalgallery.com.au
www.facebook.com/penrithregionalgallery
www.facebook.com/penrithregionalgallery
"Penrith Regional Gallery is set on the western bank of the Nepean River at the foot of the Blue Mountains in Emu Plains. It was established in 1981 at the former home and property of sculptor Gerald Lewers and painter Margo Lewers. Gallery Shop open Monday – Friday, 8am – 1pm. Cafe at Lewers open hours are 8am – 1pm every Wednesday to Sunday." PENRITH REGIONAL GALLERY
---
PIERMARQ* GALLERY
76 Paddington St Paddington NSW
Ph 02 9368 7942
Email info@piermarq.com.au
www.piermarq.com.au
twitter.com/piermarqart
www.facebook.com/PiermarqArt/
"PIERMARQ* is a Sydney contemporary art gallery with a difference. Started in 2012, our drive is to connect you with the most exciting contemporary art around.
PIERMARQ* provides a hub wherein high-quality Australian artists are showcased alongside unique international talent, reflecting the cross-boarder collecting activity in today's art market." PIERMARQ GALLERY
---
PURPLE NOON GALLERY
606 Terrace Road Freemans Reach NSW
Ph 02 4579 6579
Email purplenoon@bigpond.com
www.purplenoongallery.com.au
www.facebook.com/PurpleNoonGallery
www.twitter.com/PurpleNoonArt
"Purple Noon Gallery is a contemporary art gallery on Sydney's northwest outskirts, at the foot of the Blue Mountains. The gallery supports the work of established artists, whilst also providing a nurturing platform for fresh talent and local art. Gallery director Dr Robyn Williams carefully curates the constantly changing program of exhibitions." Purple Noon Gallery" PURPLE NOON GALLERY
---
ROSLYN OXLEY9 GALLERY
8 Soudan Lane (Off Hampden St) Paddington NSW
Ph 02 9331 1919
Email oxley9@roslynoxley9.com.au
www.roslynoxley9.com.au
www.facebook.com/roslynoxley9gallery
"Established in Sydney in 1982, Roslyn Oxley9 Gallery has a rich history of supporting contemporary art, having fostered the careers of some of the most influential Australian artists working today, including Tracey Moffatt, David Noonan, Fiona Hall, Patricia Piccinini, Bill Henson and Dale Frank." ROSLYN OXLEY9 GALLERY
---
SABBIA GALLERY
609 Elizabeth Street Redfern NSW
Ph 02 9361 6448
Email gallery@sabbiagallery.com
sabbiagallery.com
www.facebook.com/SabbiaGallery
instagram.com/sabbiagallery
Open Tuesday to Friday 11am to 6pm. Saturday 11am to 4pm.
"Sabbia has become the premier gallery for the representation of Australia's finest contemporary ceramic and glass artists. The gallery presents a comprehensive yearly exhibition schedule of both solo exhibitions of new work by its stable of artists, and curated group exhibitions, including the prestigious annual Masters of Glass and Masters of Ceramics exhibitions." SABBIA GALLERY
---
SH ERVIN GALLERY
Watson Road Observatory Hill, The Rocks NSW
Ph 02 9258 0173
Email sheg@nationaltrust.com.au
www.shervingallery.com.au
www.facebook.com/S.H.Ervin.Gallery
"The S.H. Ervin Gallery is one of Sydney's leading public art institutions housed in the historic National Trust Centre on Observatory Hill, The Rocks in Sydney." S.H. ERVIN GALLERY
---
STANLEY STREET GALLERY
1/52-54 Stanley Street Darlinghurst NSW
Ph 02 9368 1142
Email mail@stanleystreetgallery.com.au
www.stanleystreetgallery.com.au
www.facebook.com/StanleyStreetGallery
twitter.com/stanleysgallery
"Stanley Street Gallery is a vibrant and exciting gallery in the heart of Sydney's Darlinghurst art precinct. The gallery hosts a continually changing exhibition calendar and showcases the work of both established and emerging artists. Exhibitions include painting, photography, sculpture, wearable art, ceramics, video, and performance." STANLEY STREET GALLERY
---
STATE LIBRARY OF NSW GALLERY
Macquarie Street Sydney NSW
Ph 02 9273 1414
Email enquiries.library@sl.nsw.gov.au
www.sl.nsw.gov.au
"The State Library of NSW collects and preserves materials and evidence relating to our place in the world and makes them accessible to everyone in New South Wales and beyond. The Library exists in order to support and encourage research, debate, conversation, inspiration, learning and enjoyment. We welcome all people and strive to serve them all equally well, whether they visit us in person on Macquarie Street, online, or through their local public library." STATE LIBRARY OF NSW
---
THE ARTERY CONTEMPORARY ABORIGINAL ART GALLERY
Shop 2 The Westbury 221 Darlinghurst Road Darlinghurst NSW
Ph 02 9380 8234
Email websales@artery.com.au
www.artery.com.au
www.facebook.com/TheArterygallery
"The Artery Contemporary Aboriginal Art Gallery supports Indigenous Communities. Our business principles are Ethical – Contemporary – Affordable. Our goal is to offer the highest quality and best selection of Aboriginal art at fair and affordable prices." THE ARTERY
---
ULTIMATE ART GALLERY
Four Seasons Hotel
199 George Street Sydney
Ph 0435 844 347
Email Ultimateart@bigpond.com
www.ultimateart.com.au
www.facebook.com/ultimate.art.syd
"Features Contemporary Artist Allen Byrnes ; Chris Pekel, Nada Herman ; Alex Lavroff and Jane Bennett. Aboriginal Communities include Papunya and Utopia featuring : 1st Generation Papunya Male Artists include Clifford Possum ; Turkey Tolsen ; Mick Namari ; Long Jack Phillipus and the six artist of the Last Nomads 1st Generation Utopian women Artist include Emily Kngwarreye ; Minnie Pwerle ; Kathleen Petyarre ; Gloria Petyarre ; Barbara Weir ; Charmaine Pwerle Collaborative Works from both Communities" ULTIMATE ART GALLERY
---
UNSW GALLERIES
Oxford St (corner of Greens Rd) Paddington NSW
Ph 02 8936 0888
Email unswgalleries@unsw.edu.au
artdesign.unsw.edu.au/unsw-galleries
www.facebook.com/artdesignunsw
"UNSW Galleries brings together the work of leading Australian and international practitioners, curators and writers working in the fields of contemporary art and design. It is a space for the presentation and interpretation of contemporary visual and material culture, and a site for gathering, conversation and learning. The program stresses the importance of learning through exhibition-making, using integrated projects and events across the year to engage audiences in conversation with commentators from a range of disciplines." UNSW GALLERIES
---
WENTWORTH GALLERY
61 Phillip St Sydney NSW
Ph 02 9222 1042
WENTWORTH GALLERY MARTIN PLACE
1 Martin Place Sydney 2000
Ph 02 9223 1700
Email art@wentworthgalleries.com.au
www.wentworthgalleries.com.au
www.facebook.com/australianart
twitter.com/art_australia
"2 art galleries in the heart of Sydney showcasing paintings and sculpture by some of Australia's leading Artists.
We love Australian art. Wentworth Galleries have been in the Sydney CBD connecting wonderful people with Australia's best visual artists for more than 20 years. We take great pride in working with such talented people and great pleasure in hanging artworks in homes and offices that will be admired and appreciated for generations to come. There is no better, more affordable way in which to beautify and enrich your home and your life than with a well selected piece of art." WENTWORTH GALLERY
---
WHITE RABBIT GALLERY
30 Balfour St Chippendale NSW
Ph 02 8399 2867
Email info@whiterabbitcollection.org
www.whiterabbitcollection.org
www.facebook.com/WhiteRabbitGallery
"The White Rabbit Gallery was opened in 2009 to showcase what has become one of the world's most significant collections of Chinese contemporary art." WHITE RABBIT GALLERY
Sydney Art Gallery photos © Destination NSW
▼ ATTRACTION PAGES

Discover more about Sydney…
Main photo Brett Whiteley Studio, Surry Hills © James Horan; Destination NSW
---
PLEASE NOTE
The information about the businesses and organisations on this site has been provided or is included in their websites, social media or marketing materials.
You should contact those businesses or organisations for confirmation, clarification and more information before taking any action.
---
Corrections or suggestions? Please email us
Sydney Visitor, Travel & Holiday Guide™ is an official site of Regional Showcase Australia™ | Copyright © 2023 All rights reserved.